Primary
Holy Union Primary School
At the request of the local people the Community has started a private Primary School as a follow on for the Montessori Kindergarten. It is now in its fourth year with 180 pupils, and new classrooms are being added every year.
First Year Class, Holy Union Primary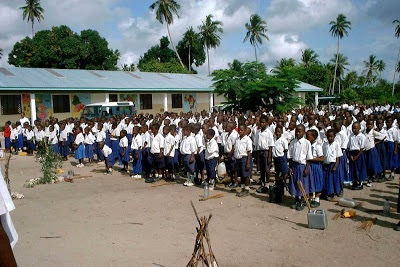 Class assembly, Maji Matitu Primary
Maji Matitu Primary was started in 2001, on a joint funding arrangement with the Government. Originally planned for 1,000 pupils, it now has 18 classrooms and teaches over 6,000 children - an average of over 300 children per class. Day to day management is the responsibility of the Local Authority, though the Community maintains a watching brief and a seat on the Governing Board.
Saku Primary, another joint venture, was started in 2007 with two classrooms and a handful of pupils. Nine years on there are eight classrooms to cover all primary age groups, but pupil numbers are over 3,500 at the latest count and increasing every month. In 2014 they celebrated their first standard seven graduation.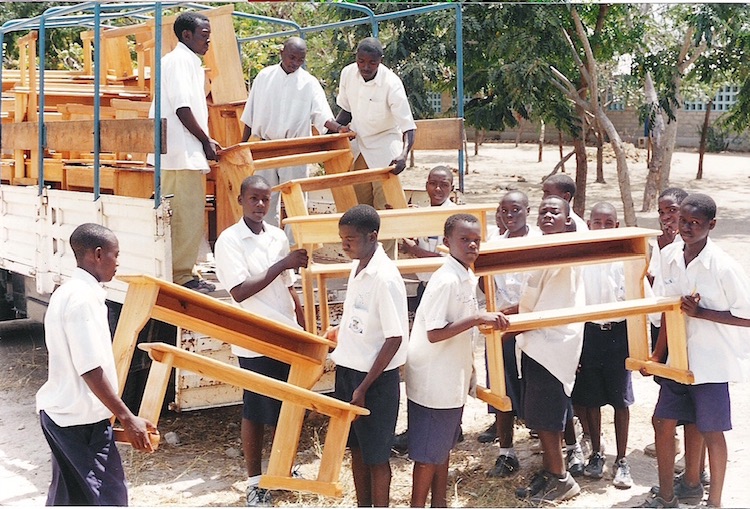 New desks for Churwi School
Building started on Churwi Primary in 2005, after a successful petition from the local elders. At that time it was an isolated village with no access to Primary education. The school now has 200 students and four classrooms.