Education
With a population of over 50 million, 44% of which is under the age of 15, Tanzania faces a major problem in education. Recognising that an educated population would be an all-important national asset for the future, the Government, in the year 2000, initiated the Millennium Project, aimed at providing free Primary education to every child. As with many such initiatives, the scheme started well. Schools began to be built and teachers trained; but as the years went by, demand for education far outstripped available resources. Most State schools today are grossly overcrowded. Teachers are poorly trained and inadequately paid, to the extent that many have to take second jobs to make ends meet. Teaching aids are virtually non-existent.
From its first beginnings in Tanzania, the Holy Union Congregation has focused on education as its primary task. Since we settled in Maji Matitu, we have worked hard in supporting local initiatives to bring state education to their neighbourhoods. Often this has involved funding the construction of one or two classooms, in order to acquire like-for-like state funding.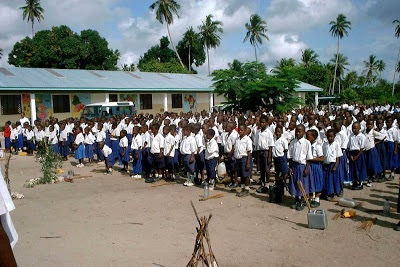 Morning assembly, Maji Matitu
Even after a local school is taken into state management, we try to maintain a watching brief and provide support when needed.
Mid-morning break, Saku Primary
In response to public demand, the Sisters are in process of providing private, fee-paying education from Kindergarten to Secondary level. The Holy Union Kindergarten and Debrabant Secondary School are now well-established, and our new Primary School is destined to provide continuity between the other two.
Holy Union Primary Year One